20 - 22 JUNE 2019
International Convention City, Bashundhara, Dhaka.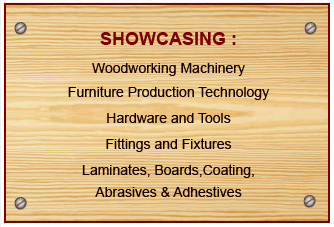 Powered by :
Concurent with :

Organizers :
Welcome to BANGLADESH WOOD 2019
Bangladesh is emerging as manufacturing hub of quality and international quality furniture.The domestic furniture market is also growing at a brisk pace of around 20 per cent a year as their designs match the needs of the local consumers whose disposal income is increasing the demand and market size.More than 3,000 manufacturers are currently working in this sector. Over 2 million people are employed in this industry. Relocation of Chinese Factories is resulting in size of the sector growing and becoming international.
Leading furniture manufacturers have been using innovative designs, sophisticated machineries, and other materials to grow and establish, which is prompting the next layer of the sector to modernize and scale up capacities.Raw materials, such as wood, hardware, finishing materials, and others are imported. Thus provides more scope for using new technology and innovations. Solid wooden furniture, board furniture and steel furniture are the popular categories. Read More...
Some of our
Past Exhibitors

Web Design by: ASK design studio